Painting Ascot
Suburb Guide
Whilst close to the river and the CBD, Ascot has thus far avoided the overpopulation of other inner Brisbane suburbs. Couple this with large residential blocks and the local facilities, including the Eaglefarm and Doomben Racecourses, and Ascot lends itself well to a leisurely and social lifestyle.
Ascot Queenslander Homes – Painting and Restoration
Considering the maturity of the suburb, Ascot is home to many traditional Queenslanders. These houses are an historical and iconic feature of Brisbane and appeal to renters and buyers alike. When painting a Queenslander, however, there are several obstacles that may prove difficult for the less experienced painter.
We have recently posted this article on the intricacies of Queenslander restoration and painting and are proud to boast our expertise in this field. Our teams have restored as well as painted countless Queenslander homes and specialise in returning these houses to their former glory.
When it comes to the painting of Queenslanders in Ascot, it is important to choose a colour scheme that both flatters the house and suits the local area. A neutral colour scheme inclusive of crisp whites honours the original architecture whilst giving a modern take. A colour scheme such as this also appeals to a wider audience, making it the perfect choice for the owner looking to rent or sell the property.
A good example can be seen on Towers St, where our painting team recently worked on this stunning property. A neutral off-white nods to the heritage of the property while the white features including the fence, rails, and beams, set off by grey handrails, give a fresh modern finish.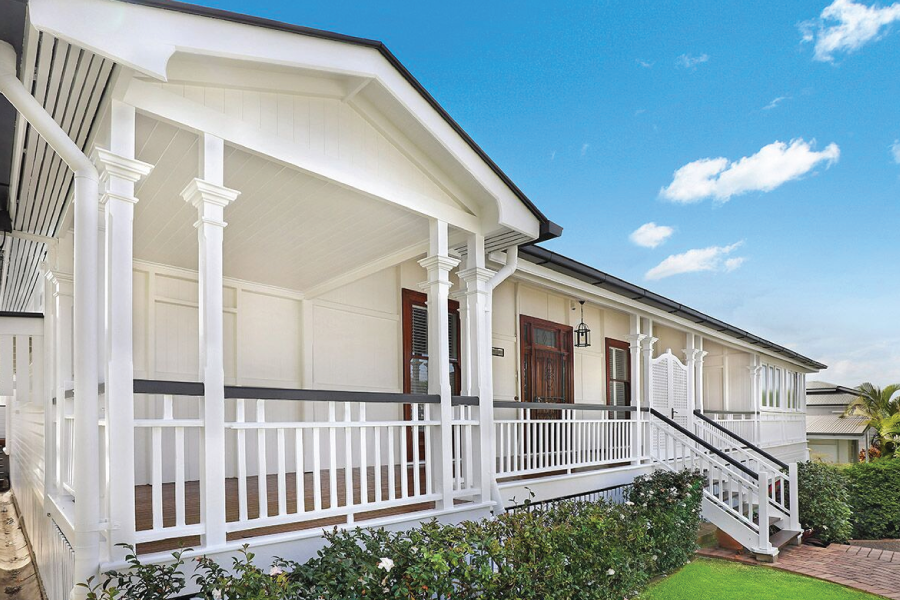 Queenslander home at Towers St, Ascot. Painted by Darryl Hathway Painting & Decorating
If, however, you wanted to step outside the box and add a pop of colour, it certainly wouldn't be out of place in Ascot. Many of the Queenslanders in this area are currently sporting alternative colour schemes. with either feature colours along the gutters and handrails, or white rails and fretwork accenting an alternative base colour.
Whatever your taste, we are happy to help you refine your colour scheme with countless colours to choose from in quality interior and exterior paint products. Feel free to contact us now for a free quote or to book a property assessment or colour consultation.
Rendered Homes
Walking the poinciana-lined streets of Ascot, you'll find that interspersed amongst the Queenslanders are many modern rendered homes. Whist these homes are typically newer than their timber counterparts, render painting comes with its own set of complexities, and without the appropriate coating and regular maintenance, cracking and oxidation can become problematic. Be sure to contact us if you feel this is an issue for your property. The team of experienced painters at Darryl Hathway Painting and Decorating can identify problem areas, repair render, and advise on product choice and maintenance to help prevent future damage.
When it comes to colour schemes for rendered homes, a variety of factors come into play. The architectural style of the home is of particular importance in choosing a colour scheme. The choice of a deeper yellow, for example may suit a Spanish style home, but may be unforgiving for many of the newer rendered designs. With Ascot in mind, many of the rendered homes are more modern in design and would suit a clean colour palette of whites and greys. As with the Queenslander homes, this colour scheme not only looks modern, but is a general crowd pleaser, with good street appeal. Creams, on the other hand, are a popular choice for units or apartment complexes.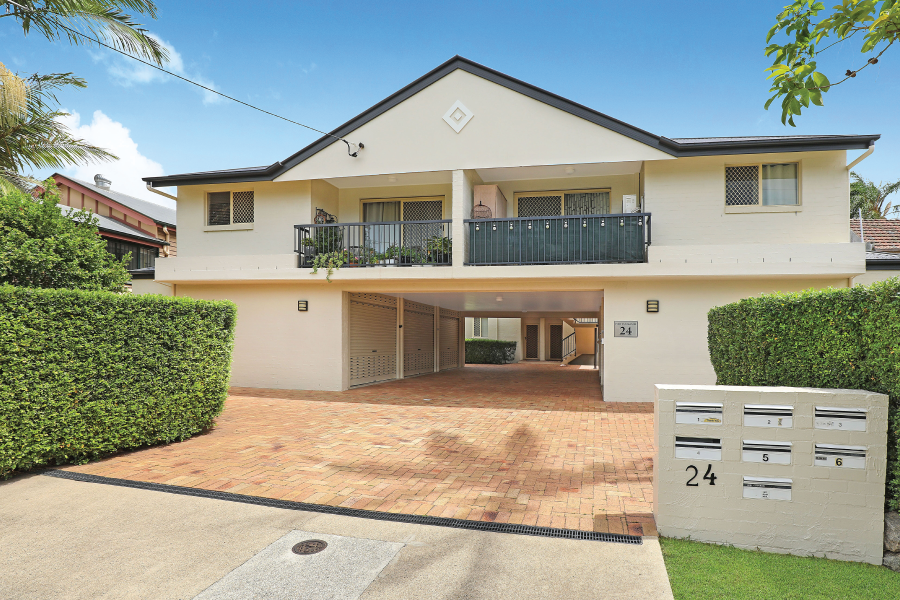 With the help of our specialist access equipment, including Zeus Spider Boom, Darryl Hathway Painting & Decorating recently painted the exterior of this unit block in Brassey St, Ascot. 
Excitingly, many of the rendered homes in Ascot boast natural timber features. This addition not only adds an element of sophistication to these modern homes, but also ties in nicely to the leafy surrounds of the suburb. A nice deep stain tends to look quite elegant, however the choice of stain should always take into consideration the colour of the render and the surrounds.
If you would like to refresh to look of your exterior timber, Darryl Hathway Painting and Decorating offer a full service staining and even deck restoration. To discuss our services or arrange a free quote contact us via our website or on 3395 7930.
Why Choose Darryl Hathway Painting & Decorating?
With over 30 years in the industry and over 150 independent 5-star google reviews, you can be confident choosing Darryl Hathway Painting & Decorating. We pride ourselves on customer satisfaction and complete transparency with our reviews and results. Take a look at our complete library of handwritten customer sign-off sheets via our Heatmap, and then talk to us to see what we can do for you.