Professional Commercial Painters
From retail precincts and warehouses, to body corporate properties and apartment complexes, our Commercial painters get the job done.
MPA 2020 Award Winner – Commercial Project Repaint
We are immensely proud to have been honoured by the Master Painters Association.
An incredible first place result in the Queensland wide commercial repaint category for our work on the Townsville Convention Centre.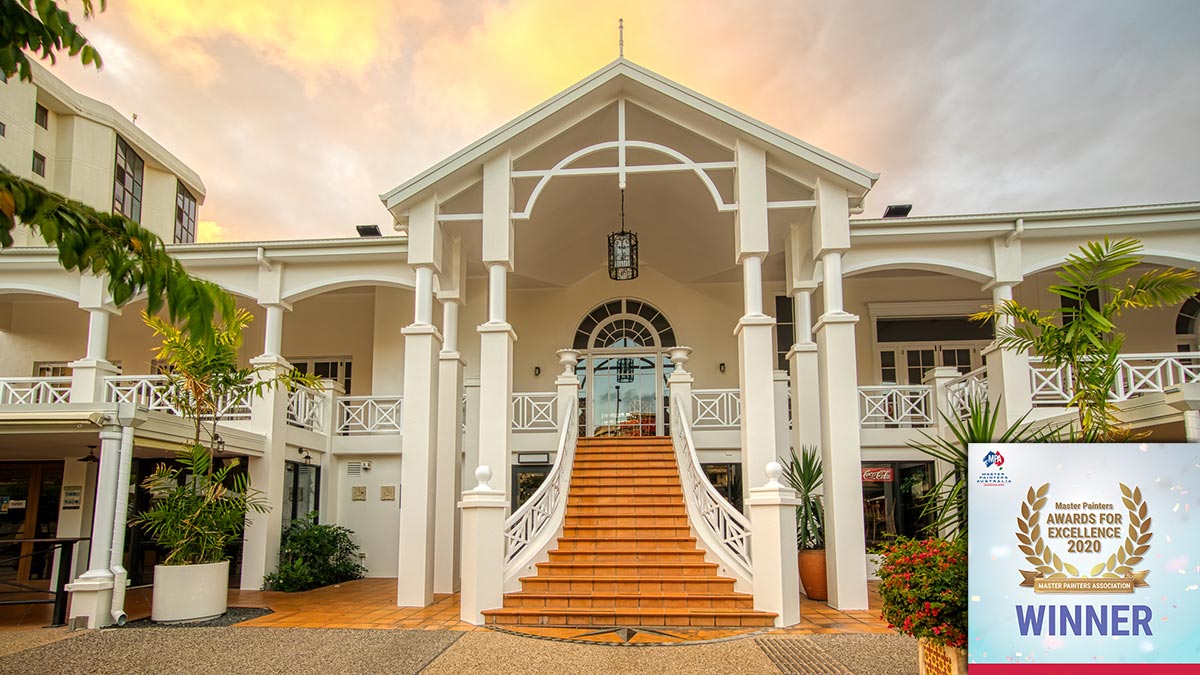 The Right Experience
When it comes to commercial painting, experience is crucial. Problems such as efflorescence, and oxidisation are more common in larger structures and can be costly if not identified and rectified early.
Our dedicated Commercial Painting Project Manager has over thirty years experience and in-depth knowledge of the many paintwork and masonry issues encountered in commercial painting projects. He personally evaluates every structure prior to quoting to identify any possible problems and, if necessary, will discuss options and timeframes for repairs as well as recommendations for paint coatings. This minimises unforeseen costs and allows us to give our clients the most accurate possible quotations.

Two large-scale commercial warehouses in Sherwood Road, Rocklea
The Right People
For commercial painting projects, the task is bigger than the building. Often during painting the premises remain in use, and there can be ongoing access by residents, workers or customers. Our commercial project manager and team leaders know the importance of communicating well and coordinating with everyone to make sure the job runs as smoothly as possible.
We are also mindful that, in a commercial project, the work we produce and our conduct on-site is a reflection on our client. Through our quality workmanship and our professionalism we do our utmost to make our clients look their best. Our painters are employees, not subcontractors. We work as a team, and each one of our staff members takes pride producing a high standard of workmanship conducts themselves in a courteous and professional manner on-site, consistent with our company values.

The DHPainting team working on an timber exterior
The Right Tools
One of the biggest hidden expenses in a commercial painting job can be the use of access equipment. Many painting companies will have to hire this equipment from a third party, passing the cost on to the client. To save our clients time and money, we have invested in our own range of specialist access equipment. Our range of scaffolding, all-terrain scissor lift, and Zeus spider boom allow us to access difficult areas with ease.
We use the best surface preparation equipment and application tools to efficiently get the best result for your property, using quality products. Our product recommendations are tailored to the needs of your property with the goal of producing an excellent finish that will best withstand the environmental conditions and resist future damage. We want your property looking its best for as long as possible.


Our repertoire covers
High-rise painting
Apartment blocks and townhouse complexes
Hotels, motels, and holiday apartments
Offices, foyers and receptions
Warehouses, Factories and Storage Facilities
Retail precincts and stores
Government buildings
Schools, churches, and community buildings
Heritage-listed buildings
Commercial industrial work consideration
Timely and professional

At Darryl Hathway Painting and Decorating, we pride ourselves on making sure the job is done quickly and as professionally. Where weather or unforeseen circumstances threaten our time frame, rest assured we will be in touch every step of the way.

Keeping it clean

We understand that our conduct on site is a reflection on our commercial clients. Our staff at Darryl Hathway Painting & Decorating promise you the utmost care taken with your space. All furnishings and fixtures are suitably covered with clean protective sheetings, and every effort is made to ensure a clutter-free work site.

On-hand estimator

With an experienced commercial estimator on-hand, we can provide you with an inspection and a timely quote specific to your needs and the needs of your property.
Commercial industrial estimates
With Darryl Hathway Painting & Decorating, you know you're getting quality workmanship with our services. When quoting for your project, a trained estimator will be onsite to discuss with you all your project needs, as well as identify tricky spots on your property. This helps us to provide the best possible final result for your property.
If you'd like to know more about our cost, time frame, products, or methods, we're always happy to hear from you!
get a quote


At Darryl Hathway Painting and Decorating, we are equipped with to take on tasks of any size and complexity. Whether it's utilising our spider boom, all-terrain scissor lift, of full scaffolding structure, there are no buildings too tall or difficult for us to access. This helps us save our clients time and money and is just one the many reasons why we have over 190 5-star Google Reviews and have over 250 handwritten, signed, and dated reviews by satisfied clients.