Enter your email to receive
our Newsletter!
Come to our instagram and watch us behind the scenes, our dedication to excellence, and what we can showcase that our large competitors can't
Award Winning Painters
2020, 2021 and 2022 MPA Winners
With multiple years of awards in some of the most hotly contested categories, Darryl Hathway Painting and Decorating are exceptionally proud of our first place finishes and the continued high quality of work from all of our teams.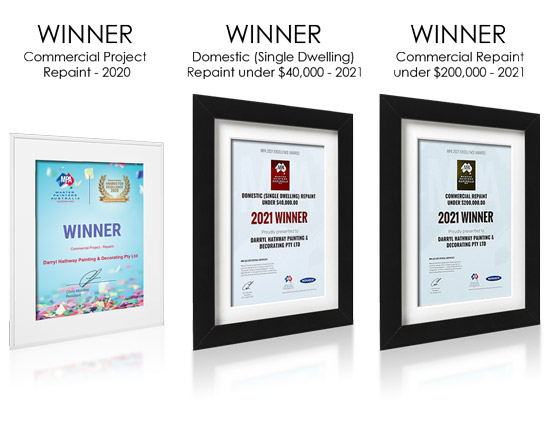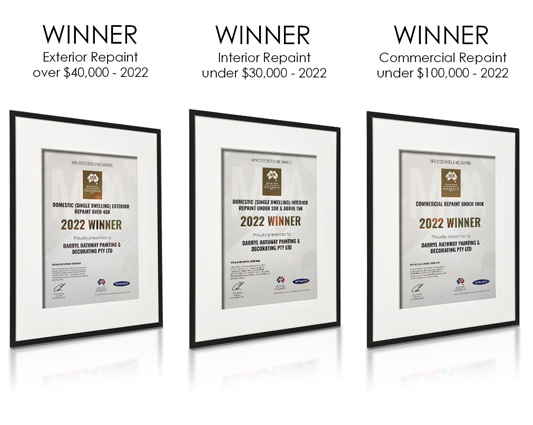 Reviews and Testimonials
Every painting company can talk a big game, but at Darryl Hathway Painting and Decorating, we let our clients do it for us.
After we finish painting, our clients are given a sign-off sheet with the opportunity to score us and provide feedback. In our commitment to transparency with our results, we have developed a heatmap where we upload every sheet, without exception.
Read what others have to say and then talk to us about putting your place on the map!
See the map
Portfolio
Showcase of our Work
When you work with Darryl Hathway Painting and Decorating you are working with a company who you can trust to deliver high quality workmanship. But don't take our word for it, see it for your self in our extensive portfolio of work available below.

View Portfolio
Latest
Recent Articles, Reviews and Portfolios
Services
Premium Painting Services
in Brisbane and Townsville
Our services have benefited thousands of clients and we look forward to working with you to transform your property. Call us on (07) 3395 7930 or visit us at our beautiful show room located on Merthyr Road, New Farm, Brisbane.
Our ​painters​ service ​Brisbane's southside, north side, east Brisbane​ and the western suburbs including New Farm, Ascot, Bulimba, Chandler, Teneriffe, Hamilton, Hendra, Bowen Hills, Annerley, Clayfield, Hope Island and Raby Bay. We also have services in the Townsville.
Showcase Book
A Virtual Book Exhibiting our Library of Work

View Book
Reviews
Client Testimonials
Darryl Hathway Painting & Decorating is Brisbane's Top-Rated painter with over 200 5-star google reviews. Here is what some of our latest clients have had to say about us.
more reviews
About Darryl Hathway
Since Darryl Hathway Painting & Decorating first opened its doors in 2009 we have gone from strength to strength and are proud to boast our position as Australia's top-rated painters. Still a family owned and operated business, Darryl is supported by his dad Phil, brother Luke, and wife Sharon.
Our family values extend to our team and to our clients. We consider it an honour to be entrusted with our client's homes and our conscientious team focuses heavily on excellent communication and quality workmanship. From residential to commercial painting, we aim to provide every client with the best result possible.
Why Choose Us?
Choosing who to trust with your property can be a difficult task. With the most 5-star google reviews of any painting company in Australia, our award winning team can put your mind at ease. We are committed to achieving customer satisfaction and consistently achieve excellent results for our clients through quality products, exceptional workmanship, and attention to detail. We are proud to offer our clients the following;
Residential, commercial, and body corporate painting services.
Colour consultation.
Timber and deck staining.
Restoration services, including Queenslander restoration and painting, lead paint removal, and water damage restoration.
Choice of an industry-leading 10-year workmanship warranty.
Thorough property inspection prior to commencement of work to provide the most accurate possible quotation and scope of works.
Individualised product recommendations based on the needs of your property.
Conscientious teams with a commitment to quality communication.
Use of our in-house specialist access equipment wherever needed; including scaffolding, scissor lift and our Zeus spider boom.
To arrange a quote or discuss our services, call us on 07 3358 1560, fill out our contact form, or visit our showroom located on 77 Merthyr Road, New Farm, Brisbane.