Queenslanders – Restoration and Painting
Article
Traditional Queenslanders are an iconic feature of many areas in Brisbane and Townsville. This type of architecture was originally developed in the mid-19th century and arose as a natural response to the harsh climate conditions. Raising the building on stumps allowed for the natural air flow to cool the house from below and had the added benefits of negating the need for earthworks and protecting the structure from pests such as termites. Additional features, such as the steeply pitched gabled roofs and large verandas were also included to passively cool the house, and even the floor plans and breezeway panels were designed to maximise cross-ventilation.
While it is true that original Queenslanders are still standing today, this type of structure can require higher maintenance than many of its counterparts. Particularly when it comes to painting, there are several reasons your Queenslander house may pose a challenge to a less experienced painter;
The details
Common features and embellishments of Queenslander houses include fretwork, wainscoting, ceiling roses, decorative gables, chair rails, balustrades, timber windows, awnings, and breezeways. All of these features are beautiful and add to the heritage feel of the Queenslander, but all take time and experience to paint properly.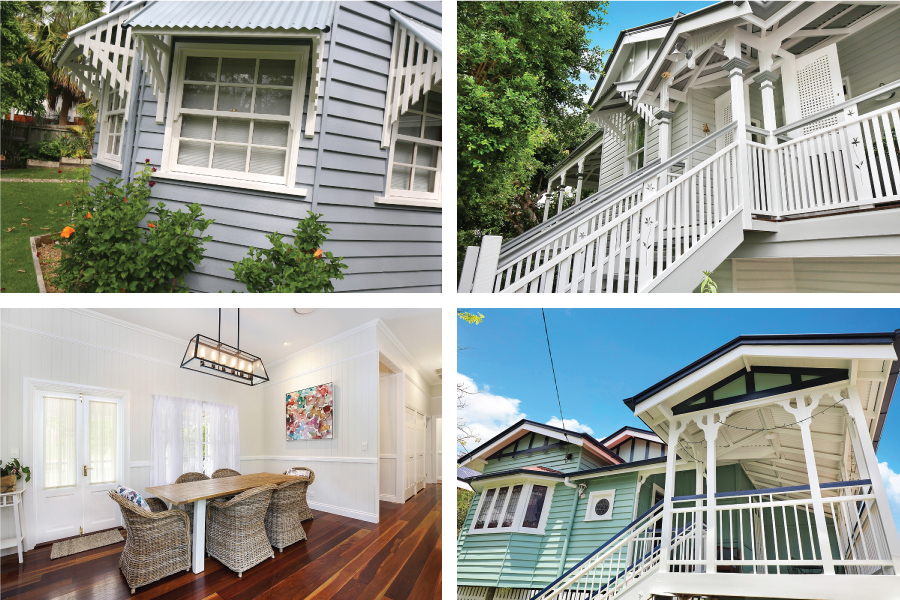 Queenslander features and embellishments
Similarly, VJ boards are use in many Queenslander homes. Again, these require more than a simple repaint. Proper inspection and gapping is essential prior to painting otherwise changes in weather will cause movement of the boards and cracking of your paint.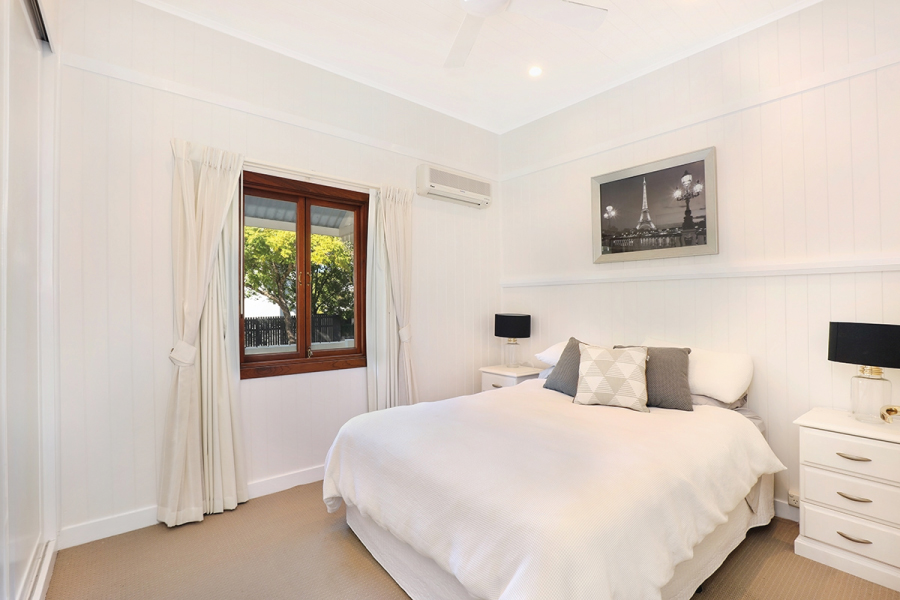 An example of the use of VJ boards in Queenslander homes
Height
Even though Queenslanders are traditionally single-storey dwellings, many have been renovated to either build in underneath the original structure or to add a floor above. In any case, the elevation of a Queenslander can pose a problem for the poorly equipped painting company. Although many painting companies have in-house scaffolding systems, some need to hire the use of this equipment, a cost that is passed on to the client. At Darryl Hathway Painting & Decorating, we have a variety of specialist access equipment, including scaffolding, a scissor lift, and a Zeus spider boom. This means you don't have to pay an external company for equipment hire and we can safely access every area of your property.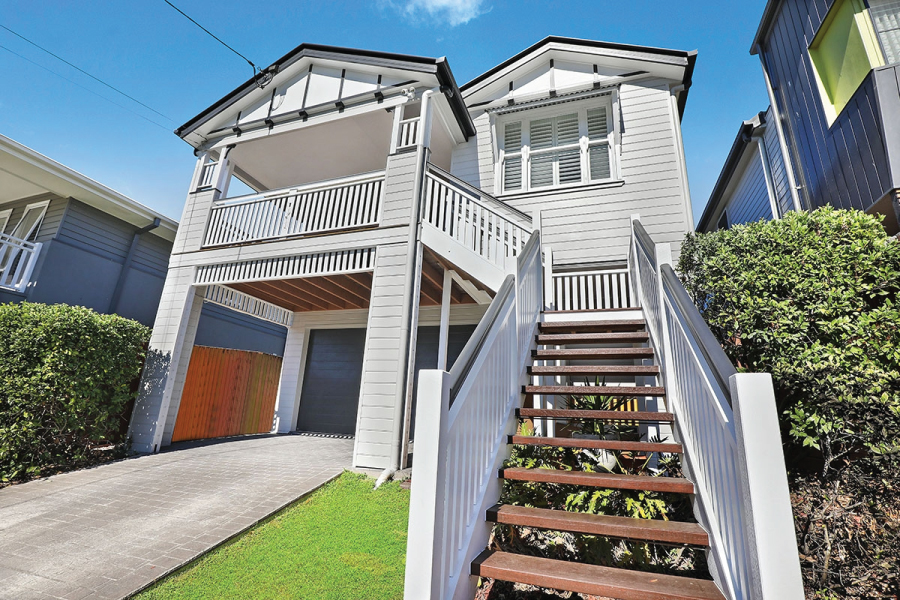 Due to their elevation on stumps, painting Queenslander homes often required the use of access equipment
Age
There's no getting around the fact that these beautiful houses are old, and it is not uncommon to find areas of mould, timber rot or termite damage. Additionally, over the years, the structure has the propensity to shift, resulting in stiff doors and windows.
Whilst many painting companies in Brisbane will offer their services in Queenslander Painting, they often do not offer full restoration services. This means that they expect you to have eased the windows and inspected for weather damage and timber rot prior to their arrival on site. This can cost you time and money as many will either simply paint over damaged areas or will inform you of the need for additional works and then leave, charging you for their time and rescheduling of their services.
At Darryl Hathway Painting & Decorating, we offer restoration as well as painting services and will personally inspect the property prior to job commencement. We identify any areas in need of carpentry work and any areas requiring more extensive surface preparation such as wet sanding, allowing us to provide our customers greater accuracy in quoting and decreasing the risk of encountering unforeseen costs.
Lead Paint
Many paints used prior to 20 years ago breach the safe concentration of 0.1% as set out by the Australian Standards. Considering this, lead paint removal is a common part of the restoration of older Queenslanders. If your lead paint is in good condition it may be considered low risk, but any areas of poor condition or any areas that may be disturbed during renovations, pose a significant health hazard. Even the ingestion of small volumes of lead can result in health complications such as anaemia and nervous system dysfunction.
The safe removal of lead paint requires specialist equipment and adherence to health and environmental guidelines. If you are unsure whether the paint in your Queenslander contains lead, please contact Darryl Hathway Painting & Decorating for an assessment.
Queenslander Maintenance
Once your Queenslander home is back in beautiful condition, it is important to keep on top of regular maintenance. The use of a good quality products should protect the structure of the home like armour. If there is water damage or if the paint is flaking or peeling, then that is an indication that the structure below is no longer protected the way it should be. Fixing these problems when they arise not only keeps your home looking its best but can save you money in the long term.
If you are concerned about the cost of ongoing maintenance then make sure to discuss your paint options. A quality exterior membrane will come at a higher price but reduces the likelihood of weather damage and premature aging. Also, make sure to discuss your painter's warranty options. At a minimum, a quality painter should be able to offer you a 5-year warranty, and at Darryl Hathway Painting & Decorating we are proud to offer a 10-year workmanship warranty, the best in the industry.
Do you want more information?
Feel free to contact us to discuss your painting or restoration needs. Whether painting for a new look or to restore a neglected property, you don't want to trust your Queenslander to an inexperienced painter. Trust in Queensland's highest rated painter, Darryl Hathway Painting & Decorating.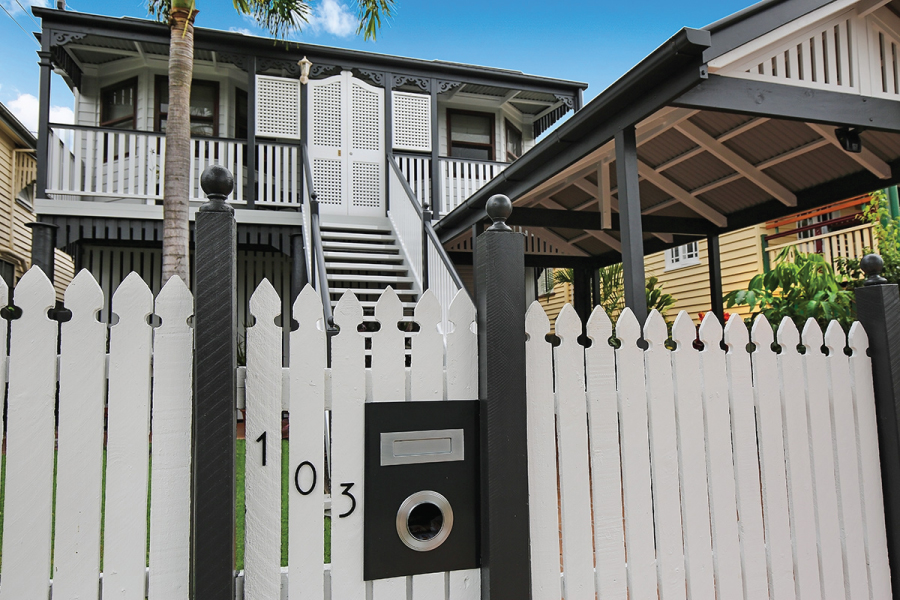 Street facade of a traditional Queenslander
The photos used in this article represent only a small sample of the work Darryl Hathway Painting & Decorating has done restoring and painting Queenslander homes. To view more of our work please peruse our portfolio. Or if you want to see what our clients are saying about us, jump on google reviews or check out our heatmap of handwritten sign-off sheets.